Arrival - St Petersburg 2019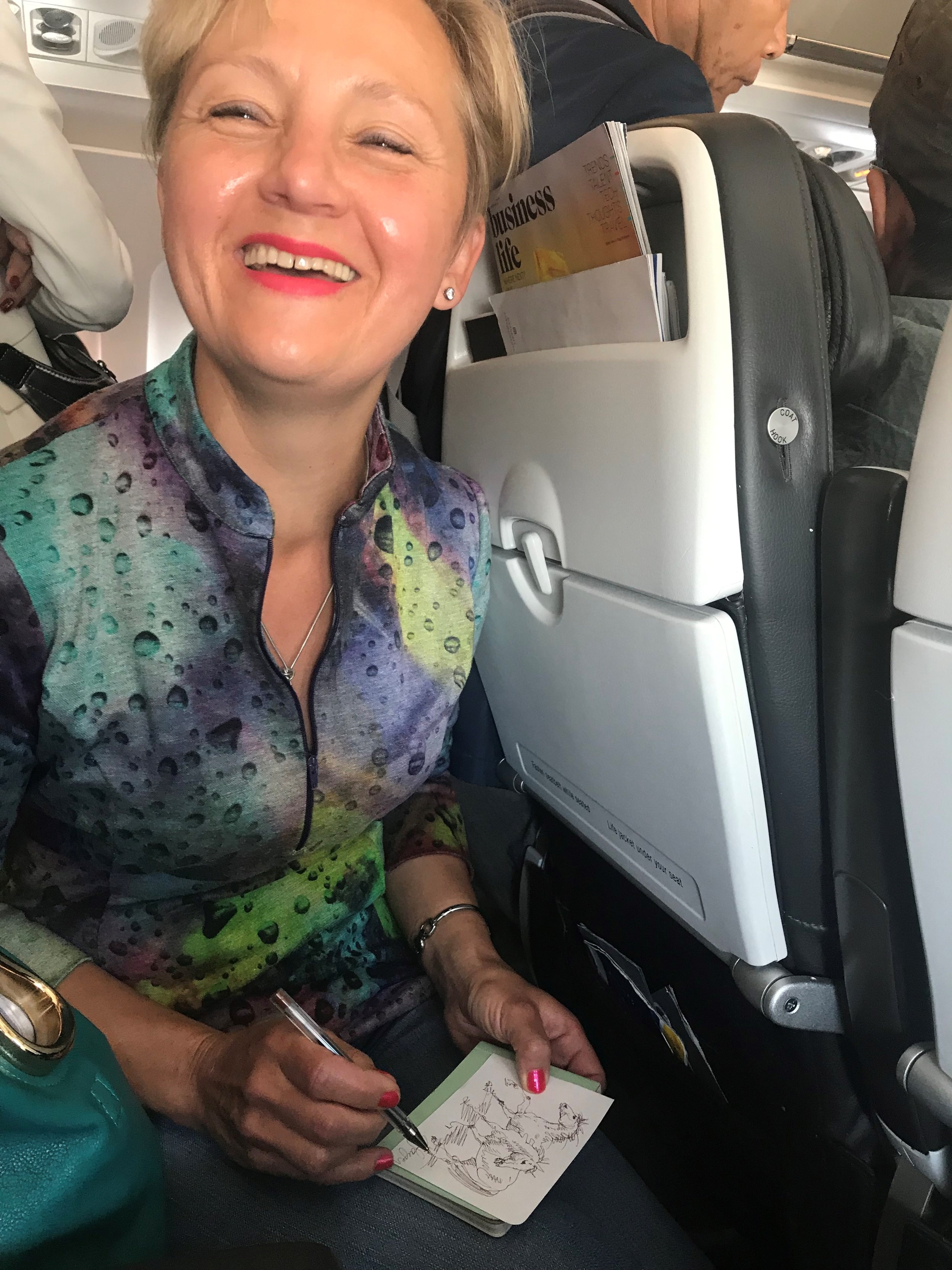 It has been two years since our last visit to St Petersburg to visit our artists, and it was wonderful to see how things have changed and progressed in that time for them.
It was going to be a challenge to see all the people we needed to in such a short space of time (previous trips have been for a week, this time we were attempting it in 4 days and one evening!) however, thanks to a brilliantly organised combination of visits on the hour to our apartment in the morning, followed by afternoon and evening appointments at artist's studios, we managed to squeeze in quality time with 25 artists. Big thanks to Larissa who lives near Moscow but who co-ordinates all these appointments and contacts the artists before our trip – she does an amazing job of juggling and orchestration. We were blessed to have artist Vineta Sayer with us to act as translator, but she is more than a translator – as a fellow artist she has a unique way of communicating with artists, knowing implicitly what needs to be said, often before we have asked her to say it! "Yes, I have said that already" was a familiar phrase – a dialogue of mutual understanding that is always beautiful to watch and hear. Here she is dashing off a quick sketch to give driver Dimar as we wait to disembark from the plane. We split up at passport control on landing in an effort to find the most effective queue and an American chap made a beeline for Nettie, explaining that it was the first time he was travelling alone since losing his wife and had she any tips for a solo traveler. "Walk like a crab, keep your back to the buildings" was her rather bizarre advice, as our previous visits had seen attempted muggings … but this and "meet you at the Carousel" became code words that were enough to dissolve the three of us into fits of giggles throughout the trip.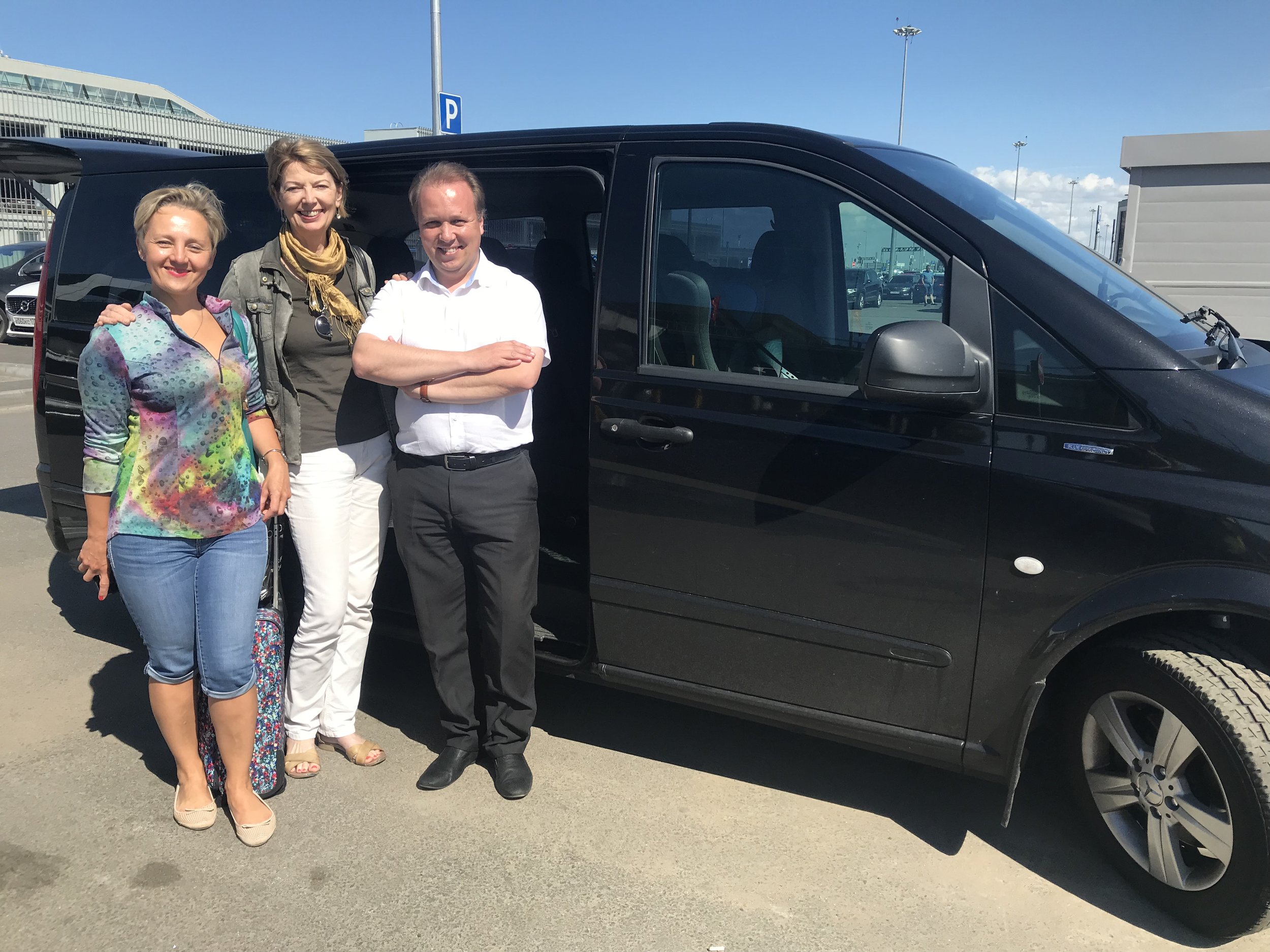 or 'Mr Fix It' as we like to call him
The wonderful Dimar met us at the airport and took us to our apartment on Nevsky Prospect - it was a new place for us as previous stays have been in an apartment just off Fontanka. We much preferred this apartment - it had the advantage of being lighter, with beautifully high ceilings … and less floors to climb up! Dimar was worried it would be too noisy for us as in previous nights, motorbikes had been roaring up and down Nevsky but the police now seemed to be on top of this and our nights were very peaceable. On our last trip Dimar's wife was expecting a baby and she arrived just before we left for the UK – a beautiful baby girl. Our arrival coincided with another momentous event – the first time she had used the toilet, or the Circle Room as it is sometimes called in Russia! He delightedly showed us a picture of her in action, relieved too that he no longer had to invest £600 a year in a company called Pampers, and wondering what he could reinvest that money in!
We dumped our bags and headed straight out to find Armen and Olga Gasparian's studio. We had calculated that it was a 40 minute walk across town, and an ideal way to acclimatize ourselves to being back in St P. We certainly racked up the mileage in our four and a bit days – averaging over 12,000 steps a day and of course, add in 78 flights of stairs – it is an unwritten rule that every artist's studio will be on the top floor … that's where the best light is! So by Saturday our thigh muscles were stronger, and our stomach muscles too from so much laughing J
It was vital that we saw Armen and Olga on Monday night as early Tuesday morning they were setting off to drive to Holland where they were going to have an exhibition. Walking into their studio, greeted by Maya the dog, is like stepping into a different dimension – their extraordinary work representing metaphysical dimensions far beyond our everyday comprehension scatter the space, the white floor boards spattered with paint, and a snug in the corner of low sofas and table laden with fresh orange slices, cake and strong black coffee that has been brewing for several hours since we WhatsApp'd Olga to say we had landed. A bronze angel by Armen sitting on the table too - surveying the studio beyond, and a candle flickering on his back, vying for space with a skull and a sand timer; all the elements for his work, placed here as a modern day tableaux. We talk to them about the possibility of getting some of their incredible bronze sculptures to the UK, and hatch a plan that we can maybe meet them in Haarlem for a handover – their weight making it prohibitive to send any other way.
We have built a base of loyal and appreciative Armen Gasparian collectors and as we look through the work that he has saved for us to select from we are mindful of their requests and wish lists, choosing a beautiful selection of work both on paper and canvas. Turning to Olga Gasparian's work we see a shift in her work with more dense and vibrant colour, and we talk about recurring themes in her pieces – Kabbalah, Hermeticism, Chakra energy and Lucy explains her recent studies on the subject of Lemuria. As it becomes clear that we both understand and appreciate her work we are given the opportunity to see two other works that she has completed – a diptych and a triptych; important pieces that we are allowed to have to exhibit here and we are delighted. We say our goodbyes, give our thanks, and head off into the White Nights of St Petersburg to put our heads on beds.